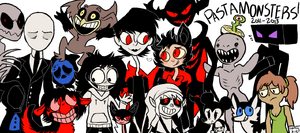 Welcome to the Pasta Monsters Wiki
Edit
Pasta Monsters is a comic created by XcomickittyX on DeviantArt. It follows the creepypasta monsters and their lives. The comic is very comical but still keeps the personalities of the characters. This comic was canceled on December 5, 2014, however on July 14, 2017, it became active again with new pages.
Describe your topic
Edit
This wiki is about the characters in Pasta Monsters. They are mainly known creepypastas,with the exception of Lara,her mother, and Oscar, before he became Grinny. There are a myriad of chracters in the comic. 
This is a growing wikia. Please help it grow!
Latest activity
Edit
Ad blocker interference detected!
Wikia is a free-to-use site that makes money from advertising. We have a modified experience for viewers using ad blockers

Wikia is not accessible if you've made further modifications. Remove the custom ad blocker rule(s) and the page will load as expected.